Is the Russian version of FIIT good? So far, there are only three flavors in the Russian version of the Fiit series, namely Regular  (similar to HEETS original flavor), Crisp(similar to HEETS mint), and Voila (Violet). The packaging is easy to identify by color.
FIIT Regular
This flavor is packaged with blue stripes. This is the regular flavor tobacco sold by FIIT in Russia. The easy-to-understand taste of high-quality tobacco. Medium intensity, but full-bodied flavor, there is a throat hit but within a completely acceptable range.
It is similar to pure tobacco: bronze, amber, yellow, and silver. Personally, FIIT Regular reminds me of most of the HEETS amber.
If you have smoked cigarettes and not a big fan of menthol before, you will like this one.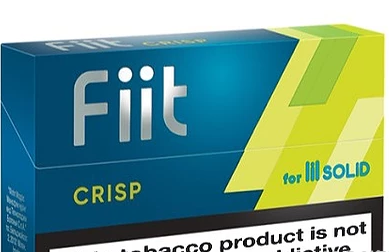 FIIT Crisp
This flavor is packed with green and yellow mixed stripes. The mint flavor is sold by FIIT in Russia. The first impression of taste is freshness, so much that the aerosol seems very cold. It tastes like mint, lemon, and some herbs.
Lovers of mojito and green tea will love it.
If you used to prefer menthol cigarettes, this Fiit Crisp is for you. But again, it is difficult to compare with cigarettes.
FIIT Viola
The packaging color of this flavor is blue and purple mixed stripes. It has the same flavor as the Korean version of FIIT, but it has no cracked beads.
After opening the package, you will immediately smell the sweetness. The taste is very similar to peppermint gum with berries. Sweet mint and blueberries.
There is almost no feeling of tobacco at all. We can say that they are the opposite of regular Heets and the same Fiit. If you like delicious sticks, Viola is your best choice.
Don't like the taste and smell of traditional cigarettes? You can also choose it. The smell of the aerosol is pleasing enough.
Now it is very convenient. The range of IQOS and lil equipment supports all tobacco sticks produced by Philip Morris. You can mix any flavor with any device and it will not affect the use.
For example, Glo uses different heat sticks for different devices. Considering that there is only one manufacturer, this is somewhat illogical. It turns out that you need to choose equipment based on taste, not just try all new products and change the taste to your liking. But for UWOO, all you need is one device like Y1, you can change heating temperatures from 305°C to 345°C for different heat sticks.
Although the Fiit brand appeared in South Korea, with the launch of Lil in Europe, the production of heat sticks moved to Italy. The Fiits we tested today were produced in the same factory where Heets were produced in Bologna.