Lil HYBRID is a new heat-not-burn cigarettes line of PMI, which is familiar with IQOS, launched in Japan in February 2021.
It is a type of device that allows you to enjoy using liquid and stick at the same time, and there are 3 types of dedicated heatsticks. However, here comes the strong menthol "MIIX Ice Plus". Let me tried to see what it tasted like.

A review of the medium-temperature HNB "Lil Hybrid"
"INTRODUCED BY IQOS" is written on the package, but the new device Lil Hybrid (made by KT&G in Korea) is not compatible with IQOS. Its characteristic is that it is lower than about 200°C of Ploom S, which is the lowest temperature of Heated tobacco device, but is lower than about 40°C of Ploom Tech Plus, which is the highest temperature of HNB. It is a high heating temperature setting of about 160 ° C and abundant steam derived from the separately sold liquid cartridge.


To use it, you need both a heatstick and a special liquid cartridge.
In addition, the LED display mounted on the main unit is excellent, and it displays the remaining amount of battery and e-liquid and the remaining number of times you can inhale. In addition, the special cigarette stick has filters on both ends, so the device is less likely to get dirty and is maintenance-free.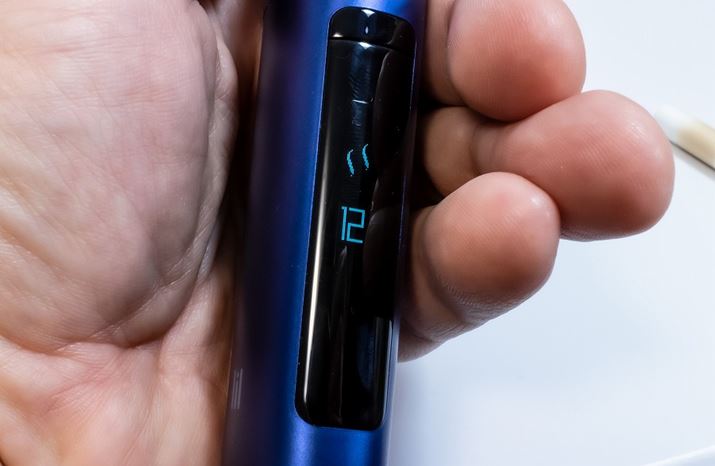 Display that you can smoke 12 more times
As for the taste, it is slightly sweet overall, probably due to the influence of glycerin in the liquid. By reducing the heating temperature, the smell of cigarettes is greatly reduced, and a sweet aroma with a sense of aroma remains.
Compared to IQOS in terms of usability, it feels like the steam is jumping into your mouth, and the draw is light. Although it has a response to sucking, the sweet aftertaste gives the impression that likes and dislikes are divided.


The stick is filled with tobacco leaves, but as you can see in the photo on the right, there is also a filter on the bottom, so you don't usually see tobacco leaves.
Strong menthol "Mix Ice Plus" long awaited by heat-not-burn tobacco users
The already released cigarette sticks for "Lil Hybrid" had one regular type and two menthol types, but there was no strong menthol type that is popular in the heated tobacco world. rice field. Therefore, "Mix Ice Plus" is a long-awaited product for strong menthol fans. It can be said that it is an enhanced version of the existing menthol "Mix Ice", which had a weak cooling sensation.


Mix Ice(left photo), and Mix Mix(right photo). The center is the newly released Mix Ice Plus
I tried Mix Ice Plus with Lil Hybrid
When I opened the package, the refreshing scent of mint was prominent, not the sweet scent of "Mixed Ice" or "Mixed Mix". When you attach the stick, it automatically starts heating, and the soft menthol feel tickles your nostrils.
When you inhale, the crisp, refreshing sensation smoothly reaches the back of your throat.
As a taste, sweetness is quite modest impression. If you taste it well, it's certainly sweet, but I think this level is acceptable even for people who don't like sweet cigarettes. The previous "mixed ice cream" was sweeter, but the main character of this work is mint. In the first half, the feeling of coolness is particularly strong and the feeling of refreshment is strong. In the second half, the soothing feeling comes out and sweetness comes out, but the weakness is acceptable. It has a spearmint-like cooling sensation with a moderate amount of spiciness, and I honestly thought it was delicious.


Steam feels soft like silk
If you are a heat-not-burn tobacco user with a sense of supremacy, you should try it
If you've been avoiding using 'Lil Hybrid' menthol because it's sweet, then this 'Mix Ice Plus' is recommended. I think the hotter it gets, the more delicious this cool flavor will be. However, even though it is a "strong menthol cigarette", it does not mean that the menthol feeling is the strongest, so it may be better not to expect too much of a refreshing feeling.