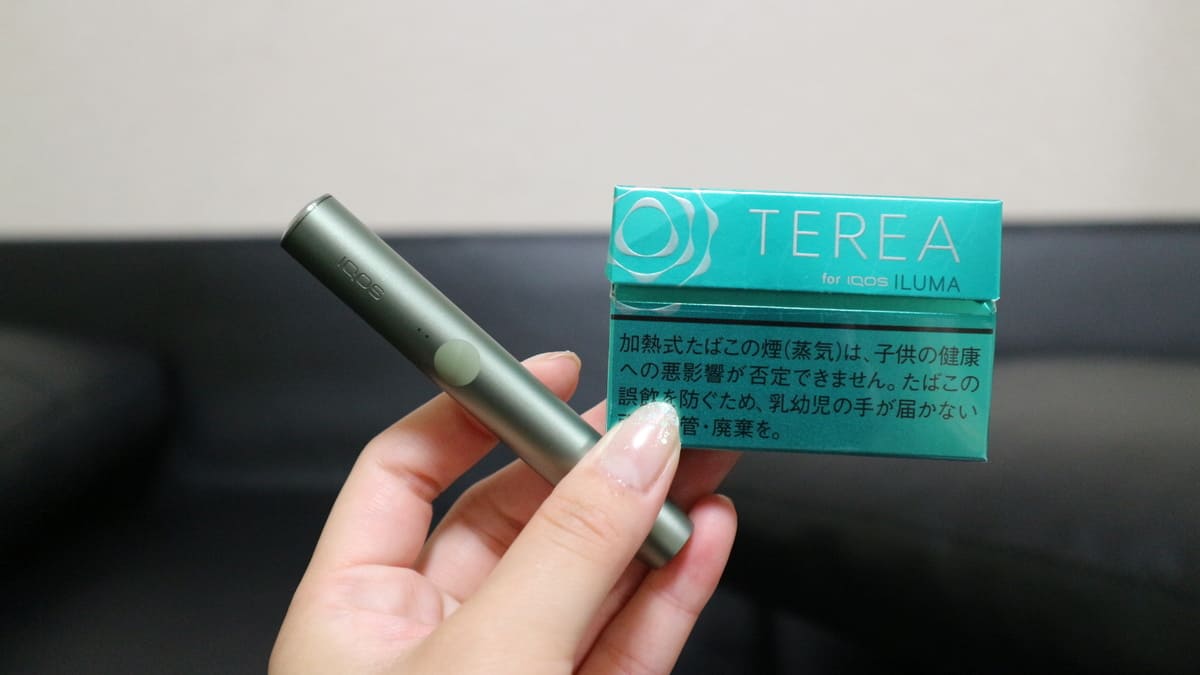 This article is a review of the new stick "TEREA Menthol" from the "IQOS ILUMA" series! IQOS The latest heated cigarette IQOS ILUMA has become a hot topic because it does not require cleaning, and many people are interested in it.
In this article, I would like to tell you not only the taste and exhilaration of "TEREA Menthol", but also the results of comparing it with the similar menthol flavors of the heated cigarettes "Glo Hyper Plus" and "Ploom X" other than IQOS.
Conclusion: Flavor with a kick feeling and refreshing menthol similar to cigarettes
The TEREA menthol was quite satisfying even for me, who was accustomed to strong menthol. There is also the original taste of tobacco that is comparable to the solid menthol taste, and it is called "IQOS".
It was released as a well-balanced and refreshing flavor, but it is an excellent flavor that you can really enjoy the refreshing but rich and deep flavor!
It is also recommended for those who are trying menthol flavor with iQOS ILUMA for the first time!
I think it is a well-balanced TEREA brand that is well-received by everyone.
By the way, "TEREA Menthol" is also a brand that has won the first place in the popular flavor ranking. As expected, it is not the most popular, Date.
Overview of TEREA menthol
Now, let me introduce the basic information of TEREA Menthol.
Price and retail store
Price: 580 yen (tax included)
Number: 20
Dealers: Convenience stores, tobacco stores, and IQOS online stores nationwide
Heat-not-burn tobacco that can be used: IQOS ILUMA, IQOS ILUMA Prime
The price is 580 yen per box. Glo Hyper flavors start at 520 yen and Ploom X starts at 500 yen, so it's a little expensive for heat-not-burn tobacco.
Among the many heated cigarettes I personally have, iQOS has a long-standing image.
It's expensive, but I thought it was the most delicious heat-not-burn tobacco .
I would like to thoroughly review the flavor "TEREA Menthol" introduced today, whether it has the taste of iQOS or not, while comparing it with other heat-not-burn tobacco products.
The appearance of the package and stick
The package is bright emerald green. The glossy package is somewhat luxurious.
As I explained above, there are many similar designs in the TEREA series.
I was at a loss when I actually bought it at a convenience store …
When you open the package, the scent of your nose spreads
When I opened the package, I felt a strong mint scent with a tingling nose.
This is … Expectations are high for the feeling of menthol! The scent of this menthol was more like toothpaste.
Impressions of taste: The balance between strong menthol and the richness of tobacco is exquisite.
From the first puff, I felt a menthol feeling and a strong kick feeling firmly!
The menthol reaches deep into the throat, and those who are not accustomed to it may be disappointed.
You can enjoy a refreshing and refreshing taste by smoking on the 2nd and 3rd puffs.
A really well-balanced one with just the right amount of sweetness in a strong menthol and the richness of tobacco. There is no unpleasant taste, and there is no squid or bitterness that you often feel with heat-not-burn tobacco.
The taste of mint that remains on your tongue is delicious and you can enjoy it until the end! I felt that one was really good.
I want to smoke more! It was an unsatisfactory flavor in a good way.
What is the aftertaste and smell?
The aftertaste after smoking TEREA menthol was the taste of mint that remained on the tongue.
The refreshing aftertaste that makes you feel cold in the back of your throat is very comfortable.
Also, I didn't smell it at all. I was surprised that it was so odorless that I didn't even notice that I smoked!
It does not have the moist odor peculiar to heat-not-burn tobacco, so it is an excellent flavor in terms of odor.
Compare the menthol of "IQOS ILUMA" with "glo hyper" and "Ploom X"
Next, I compared IQOS ILUMA's "TEREA Menthol" with Glo Hyper's menthol and Ploom X's menthol brand!
Compare with Glo Hyper's "KENT TRUE MENTHOL"
First, I compared it with Glo Hyper's menthol flavor.
The flavor I compared this time is "Kent True Menthol"! This brand is a menthol brand that is cheap and you can feel the coolness and taste of tobacco, and it is a popular brand in Glo Hyper because of its good cost performance.
Comparing the cigarettes, the TEREA menthol was richer and I enjoyed the original taste of cigarettes.
The miscellaneous taste that I hadn't noticed when I was smoking Kent in Glo Hyper until now became conspicuous by comparing the tastes …
Both are flavors that allow you to enjoy a strong menthol and kick feeling, but I thought that it was "TEREA Menthol" that you can enjoy tobacco in a more balanced manner.
Compare with Ploom X's "MEVIUS MENTHOL COLD"
Next, I tried to compare it with Ploom X's menthol flavor "Mevius Menthol Cold".
This flavor is Mevius, which JT is proud of, and it is a brand that you can feel the rich taste and refreshing feeling that domestic tobacco leaves are used. The Ploom X menthol may be the most satisfying taste.
Both have delicious flavors, but the "TEREA Menthol" introduced in this article has a stronger sense of exhilaration and menthol.
Mevius menthol cold also has a strong kicking power and a refreshing feeling, but the bitterness and squid feeling are more noticeable than the TEREA menthol.
Therefore, even those who smoke menthol for the first time felt that TEREA menthol is an easy-to-suck flavor!
Mevius Menthol Cold has a bitter and profound taste, so I think it is recommended for those who like the bitterness when smoking.
TEREA menthol is recommended for people like this
As a result of smoking and comparing, I thought that it can be said that TEREA Menthol is recommended for such people.
Looking for a menthol flavor that is closer to a cigarette
I like strong menthol / kick feeling
But there is little odor and odor
TEREA menthol was a well-balanced flavor that you can enjoy outstanding menthol feeling and kicking power.
If you are not satisfied with the heat-not-burn tobacco, please try it once!
The kicking power and menthol feeling that I felt with Glo Hyper and Ploom X are sufficient, but I can enjoy the sizzling taste that is closer to that of a cigarette.
Last but not least, TEREA Menthol is the exclusive flavor of IQOS's latest heated tobacco, "IQOS ILUMA". If you have never used IQOS, you can buy it for 80 yen by using the "rental program". If you are interested, please check the following articles.