The non-nicotine heatstick that cuts nicotine by using tea leaves instead of the tobacco stick for "IQOS" is booming. Starting with "Nikoles," which started TV commercials, there are now a large number of brands, making it extremely difficult to select. Meanwhile, I found a mysterious stick "FreeM" that I didn't know how to read correctly. Take the courage and the heavy smoker writer wants to smoke.
There are two flavors of "FreeM", watermelon menthol (left) and mint menthol (right photo). It was 999 yen (tax included) for a set of 2 boxes of 20 pieces, so it is about 500 yen when converted to 1 box.
Free of nicotine, heavy metals and formaldehyde, only herbs and tea are used.
"FreeM" has almost no information other than the fact that it is a nicotine zero stick that uses carefully selected high-quality tea leaves and has achieved a sucking response and taste with a unique manufacturing method. The homepage that I finally found after searching for it was in Chinese, and the details are difficult to understand.
It is a product of a company called Shenzhen Jiapinhui Western Technology Co., Ltd. in Shenzhen, which is famous as "Silicon Valley of China".
Currently, IQOS is mainly compatible with heat-not-burn tobacco devices that are being deployed nationwide in Japan, but since it can be used with central heating devices, it can also be used with UWOO.
"FreeM watermelon menthol" which is strong but easier to suck than I expected
The first thing I tried was the "FreeM watermelon menthol," which had already sprinkled a scent like the blue part of watermelon before the film was peeled off. The fragrance is tight and not chemical, but it has a peculiar green odor.
When you insert it in IQOS, you can't say anything about the warm green scent of "Lover". Is this an ant?
After the heating is completed, when you inhale the steam, the scent of the white part of the watermelon stands out and cold menthol is added to it, so the stimulation is strong, but it is easier to inhale than you think. Just being wary at the beginning, I'm out of tune.
Whether it's a liquid for vapor or a brand of cigarettes or heat-not-burn tobacco, the watermelon taste is sometimes encountered, but it has a strong habit of being closer to cucumber (cucumber), and the finish is not very familiar to Japanese people. There are many things. This product is no exception.
"FreeM Mintha Menthol" with a crisp taste that is less sweet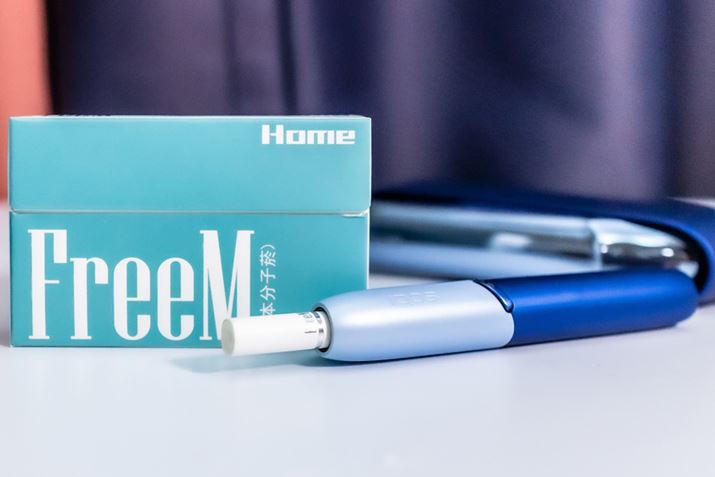 Next, try smoking "FreeM Mint Menthol". Before the review, I kept the two flavors without completely removing the wrapping film, but the odor of "FreeM Watermelon Menthol" was still transferred to "FreeM Mint Menthol". And half of the paper that had been removed was almost "watermelonized". I thought it would be okay if they were menthols …
When I decided to smoke the stick that had not been removed from the inner paper (the odor did not transfer), it tasted like a natural and simple cold menthol. It has a crisp taste with less sweetness, and the slight squid feeling of tea leaves is the taste of cigarettes.
Although it is a mysterious existence, is it possible to switch about 1 in 3 to 4 with "Mint Menthol"?
Is it possible to cut off nicotine with this "FreeM"? To be honest, in my opinion, it is not impossible to switch about 1 in 3 to 4 for "Mint Menthol" only, assuming that you have a strong will.
The taste is strong as it is when you smoke it vigorously (it becomes spicy, but you can feel the cigarette feeling). Anyway, I think that it is suitable for people who emphasize sucking and responding.
As for "watermelon menthol", it forms a unique world view, so when it comes to using it as a compatible product for the purpose of cutting off Nico, you will probably choose a lot of people.