Non-nicotine sticks that realize nicotine cut by using tea leaves instead of tobacco leaves for IQOS are booming. This time, the author who tried most of the products currently available in Japan tried to create rankings in order of deliciousness.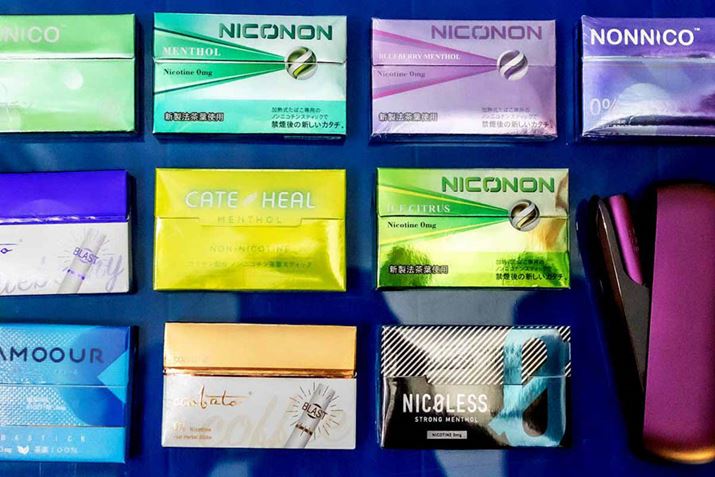 From the non-nicotine tea leaf sticks, whose types have been increasing rapidly in recent years, we have selected 10 products based on our own judgment and prejudice.
Features of non-nicotine stick = tea leaf stick
The beginning is the release of Nicolas in March 2019. Traditionally, smoking cessation pipes and recently vapors have been the norm when it comes to cutting nicotine while smoking. However, they had a weak kick feeling (sucking response) to the throat, and it was difficult for smokers to make the transition.
Nicotine-free, which appeared in such a situation, uses black tea leaves instead of tobacco leaves to improve the sucking response, and I was surprised at the kick feeling when I first experienced it. Aside from the flavor, the weight and texture of the steam was just like smoking iQOS. Therefore, although limited to iQOS users, nicotine cut has become much easier.
Since the hit of nicotine-free, various manufacturers have entered the market, and the number of types has increased to the point that I am worried whether I can grasp all the brands released now.
By smoking most of the tea leaf sticks on the market, I found out that it was a cobblestone mixture. There is a surprising difference depending on the brand and type. I have the impression that many of the tea leaves used are oolong tea-like Chinese teas with a strong habit. Frankly speaking, I think from experience that there are a lot of mistakes.
Also, even if the first bite is delicious, the problem is from the middle stage onwards. This is because the acidity and harshness peculiar to tea leaves increase in the latter half, making it difficult to suck. In addition, some regular flavors have already been released, but no product that can be recommended at present has been found.
The introduction has become long, but in such a situation, let's announce the top 10 non-nicotine tea leaf sticks that the author of the heavy smoker actually smoked and felt delicious.
[1st place] Non-nico menthol
You can enjoy a refreshing feeling until the end.
It was 1,197 yen (tax included) for a set of 3 boxes of 20 pieces, so it was about 400 yen per box, which is a little cheaper than the average.
I didn't expect it because of the straightforward naming and the cheapness of the package design, but when I smoked it, I was surprised at the "non-nico menthol". After confirming the product details again, it is said that they are using the tea leaves of the high-class tea leaves from Longjing Village in Zhejiang Province, China, Xihu Longines. This is not a semi-fermented tea like oolong tea, but a non-fermented green tea.
Among the tea leaf sticks, the green tea base is still a minority. The new innovation of this "non-nico menthol" is that the tea leaves are not granulated as they are, but the extract is extracted and granulated by a unique manufacturing method. It is handled by Yoshioka Pharmaceutical, a manufacturer that makes non-woven masks and energy drinks, as well as iQOS compatible machines and vapor products.
The stick itself doesn't smell very good, but when you smoke it, it's not too spicy, but you'll be amazed at the powerful menthol feel. The level is similar to "Marlboro Heat Stick Black Menthol". The taste is an elegant taste based on high-grade green tea and is very delicious. The acidity increases after the middle stage, but it keeps masking the unnaturalness with a refreshing feeling until the end.
If you dare to give a weak point, there is a habit of smelling the butts after you finish smoking.

It is characterized by a kick feeling (pressure on the throat) that could not be experienced with conventional non-nico products.
[2nd place] Niconon Menthol
iQOS Nonnico iron plate brand with high reproducibility
20 pieces for 418 yen (tax included). This is the standard price for a box of non-nicotine sticks
The "Nikonon" series, which reigns as a non-nico iron plate brand, is gaining popularity due to the ingenuity of carefully selecting tea leaves for Japanese people and the pursuit of tobacco feeling rather than tea leaf feeling. Its representative "Nikonon Menthol" is in second place, but it is close to "Nonnico Menthol", so you can think of it as No. 1 in the same ratio.
When I smoke it, the refreshing peppermint menthol spreads, followed by heavy steam. It is made with an emphasis on the feeling of tobacco, and even if you compare it with "Marlboro Heat Stick Menthol", you will not notice the difference so easily. It tastes a little salty if you care about it, but you won't notice it unless you tell it. It may be the best if you think about heat stick compatibility.
[3rd place] Niconon Blueberry Menthol The
royal road berry menthol is beautifully reproduced.
20 pieces 418 yen (tax included)
In the heat-not-burn tobacco world, the royal road berry menthol that is popular not only for "iQOS" but also for all heat-not-burn devices. "Nikonon Blueberry Menthol" is a perfect reproduction of this with a tea leaf stick.
It has a medium-bodied red wine-like depth with an adult-like depth centered on the peel, and you can get a good sense of satisfaction without nicotine. It's nice to be able to enjoy it until the end without feeling the acidity and harshness that tends to appear after the middle stage.
[4th place] Non-nico ice blueberry
Sweet and sour fruity and easy to suck
1,197 yen (tax included) for a set of 3 boxes of 20
"Nonnico Ice Blueberry" is a berry-based menthol that has a sweet and sour fruitiness that is close to that of real fruits. Along with a clean, not too spicy menthol, it is a very easy-to-suck product. The sourness that becomes a problem after the middle stage is not bothered at all by combining with sweet and sour.
I think it's perfect for people who want a little sweetness in their cigarettes.
[5th ​​place] CCOBATO Blueberry
capsules are included, but they are usually delicious without crushing
20 pieces 418 yen (tax included)
The "Salome" brand known to those who know it as a smoking equipment manufacturer. The "CCOBATO Blueberry" was born from this and is equipped with a projectile-like capsule menthol that is familiar with "glow" sticks. You can change the taste by crushing the capsules in the filter with your fingers or teeth while smoking.
At the beginning of sucking, the draw (force required to suck) is heavy. There's a kick to the throat, and it's modest but the menthol feels neat, so it's usually delicious without crushing the capsules.
When you crush the capsule, it gives you a purple berry feeling that spreads all at once. This becomes a glittering berry menthol and is obediently delicious. The pop taste like bubble gum is good.
[6th place] Catheal (menthol)
The refreshing flavor unique to green tea is pleasant.
20 pieces 418 yen (tax included)
"Catheal" is a patented non-nicotine stick containing tea catechin. It is a product that has been steered toward a healthier direction. The seller is Toa Industry, which also handles OEM production from hygiene products to medical equipment. This is also based on green tea like "Nonnico".
The cool menthol reaches the back of the throat strongly, but it is characterized by the exquisite balance that it does not go to spicy, and the refreshing flavor like green tea is comfortable. It has a refreshing taste like mint gum that is deodorant with green tea polyphenols.
[7th place] Niconon Ice Citrus
Adult taste with bitterness
20 pieces 418 yen (tax included)
Citrus flavors range from those with a strong fruity and sour taste to those with an adult taste that has the bitterness of the peel, like this "Nikonon Ice Citrus". The crisp citrus perfectly counteracts the aroma peculiar to tea leaves that rises when heated, and you can take a break with a refreshing feeling.
Even people who are not good at sweet cigarettes can enjoy it.
[8th place] Amoour menthol
Light sucking comfort suitable for a light dose
20 pieces 418 yen (tax included)
"Amoour Menthol" that raises awareness using only high-quality pesticide-free tea leaves cultivated and produced in our own field in Fujian Province and naturally derived ingredients. The stick is a little long, though there is no problem with wearing iQOS. Although the amount of steam is small when you inhale it, you can taste the refreshing feeling of peppermint and it is usually delicious.
Some people may find the feel of the low-priced iQOS stick Heets even lighter, but I think it's good when you want to take a break.
[9th place] CCOBATO Coffee
Nostalgic It's delicious, but the taste seems to be different
20 pieces 418 yen (tax included)
"CCOBATO Coffee" is a variation of coffee menthol flavor created by Salome, which has a retro and cool presence. Like the "blueberry" mentioned above, it uses capsule menthol.
As soon as you open the box, the refreshing sensation of mint is mixed with the aroma of coffee mixed with acidity like a coffee shop in Showa. Nostalgic taste if you smoke. I think I like it or not, but I really like it.
[10th place] Nicoless Strong Menthol
Reliable original non-nico strong menthol
20 pieces 418 yen (tax included)
The original "Nikoless Menthol" now feels a little too tea-like. That's where the "Nicolas Strong Menthol" came out as if it were being updated. It knocks out with the same soothing feeling as "Marlboro Heat Stick Black Menthol".
After all, there is only the original brand, and there is a strong sense of trust.
Nicotine cuts may be easier than you think, only for iQOS users
These nicotine zero sticks are a lot of hits and misses, but they are very powerful weapons for those who aim for nicotine cut and nicotine zero. Basically, if you are an iQOS user (* You can also use the same central heating type Pals as iQOS), I think that you can reduce nicotine more smoothly than you think by mixing these tea leaf sticks when smoking.
The products introduced here are all easy-to-suck products that suppress discomfort as much as possible. As a writer, at least one in two is an excellent non-nico that can be switched. If you are worried about smoking too much, please give it a try.