Philip Morris Japan has announced a version of the heated cigarette "IQOS" with four new functions, "IQOS 2.4 Plus". From March 3, 2017, it will be released in advance at 8 IQOS stores nationwide.
In addition, a new flagship store with the largest area of 338 square meters was opened on March 3, 2017 in Ginza, Tokyo. You can purchase products in the same way as the IQOS store that has already opened, and you can use the members-only lounge.
Consider replacing ordinary cigarette sales

Prior to the launch, Paul Riley, president of Philip Morris Japan, appeared at the recital held at IQOS Store Ginza on March 2, 2017. "We have promoted the development of RRP products with an investment of 300 billion yen and 400 research institutes," he emphasized. "In the next 10 years, we will realize a society with even less risk. Ordinary cigarettes. We are also considering stopping the sale of cigarettes. "
After a test sale limited to Nagoya City in November 2014, after sales in 12 prefectures in September 2015, it will be released nationwide in April 2016, and the number of units sold has exceeded 3 million units. , "IQOS" has come to be used by more than 2 million adult smokers. In January 2017, it had a 7.6% market share (retail sales basis) nationwide. By city, Sendai was particularly high at 12.9%, and Tokyo also recorded 9.5%.
As a user, I'm worried about the chronic shortage of the main body of "IQOS", but President Riley said, "We will respond within a few months" and will improve the supply by introducing new products. Suggests.
What are the features of "IQOS 2.4 Plus" & new flavors?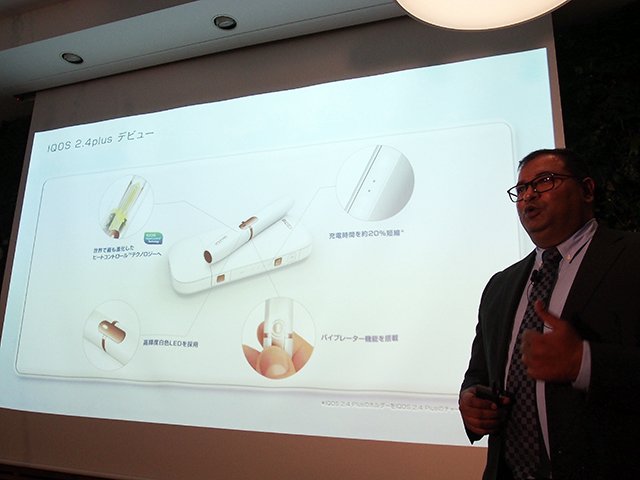 The newly released "IQOS 2.4 Plus" has improved heating blade coating technology, a 20% reduction in charging time, a vibrator function in the holder, and a high-brightness white color in order to pursue more genuine cigarette satisfaction. Adopts four functions that adopt LED.
In particular, it would be a nice improvement for users to be able to use what used to take 6 minutes to charge in 3 minutes and 40 seconds.
The price is 10980 yen (tax included), which is 1000 yen higher than the current model, but the ongoing 3000 yen OFF is also applied to this model, so you can get it for 7980 yen.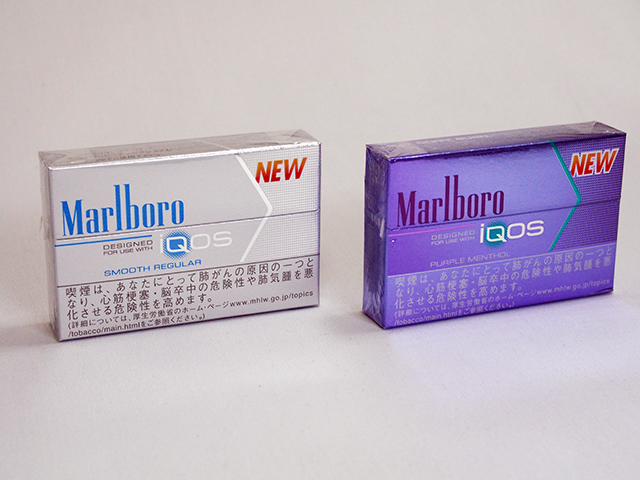 There are currently four types of cigarettes for "IQOS", but the new lineup includes "Marlboro Heat Stick Smooth Regular" and "Marlboro Heat Stick Purple Menthol". Both are scheduled to be released in advance at eight IQOS stores from mid-March 2017. The price is 460 yen (tax included) for 20 bottles.
I actually tried using "IQOS 2.4 Plus", but it is kind to tell me the start of heating with a vibrator and the end of heating 30 seconds before.
The new flavor is "Smooth Regular", which gives you a richer taste of tobacco leaves, and is recommended for smokers who love cigarettes. On the other hand, "Purple Menthol" has a rose-like scent, giving it a taste not found in other products. It seems that women also like it.
We are particular about coffee! Anyway, a large IQOS store Ginza

IQOS store Ginza boasts a large area as a new flagship store. On the 1st floor, you can experience "IQOS" and purchase products.
The staff will explain the functions of "IQOS" on the circular stand.
The lounge for "IQOSphere" members who can register on the Web when purchasing "IQOS" is on the 2nd floor. The curved table and the display with limited items give a modern and calm impression.
The cafe menu of "Cafe IQOSignature" is definitely something you should try at IQOS Store Ginza. The espresso machine "Slayer" will offer an original blended coffee that is supervised by a professional coffee extractor using high quality beans carefully selected from all over the world.
"IQOS" is increasing the number of special cases and caps because it was "influenced by the creativity of Japanese users" (President Riley). It seems that the limited-time cases will continue to be lined up in the future, so I would like to pay attention to the high design.
In addition, a special lacquered case limited to the IQOS store Ginza will be on sale for 33000 yen (tax included). There are two types of designs, Bordeaux, which has a deep color and a high-class feel, and a design in which genuine gold leaf is scattered, both of which should be called crafts. Limited to 50 pieces, so luxury users should have it as soon as possible.