There is also a campaign to win luxurious prizes.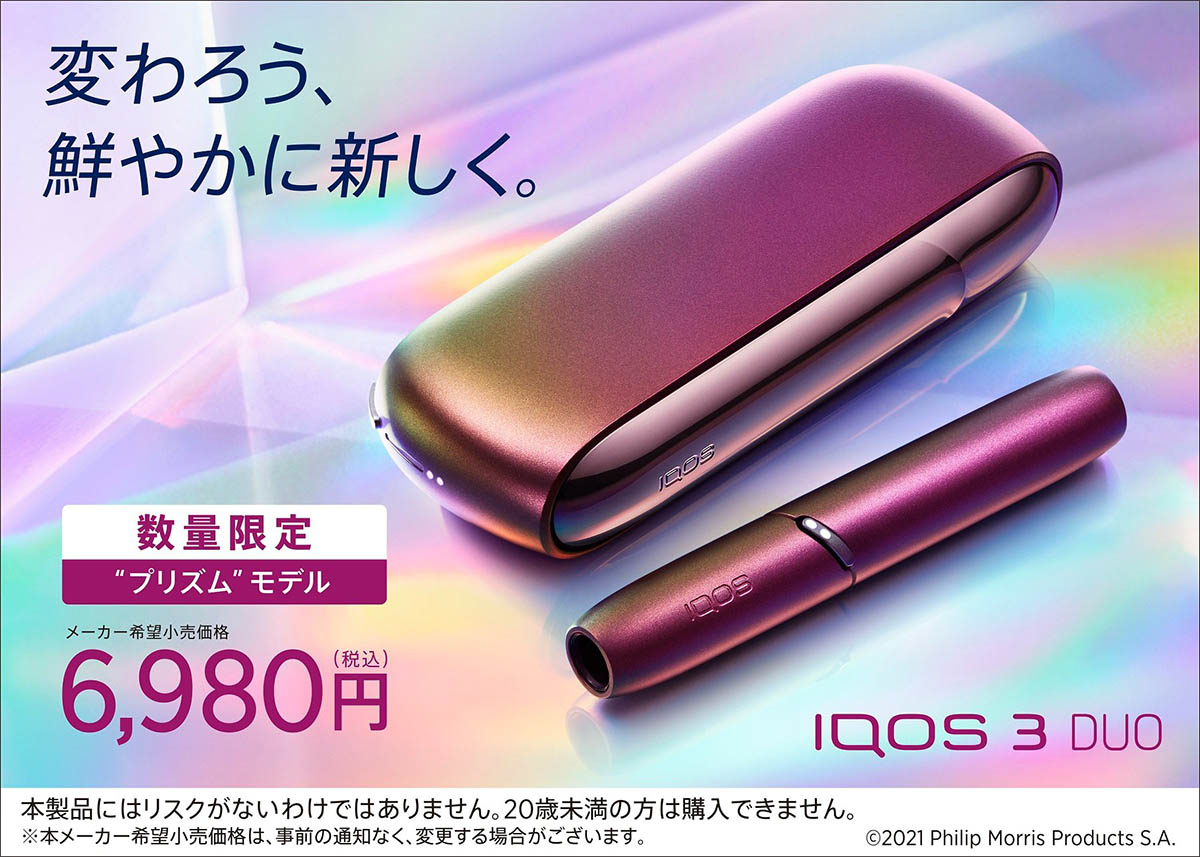 PMI announces the limited quantity product IQOS 3 DUO "prism" model of heat-not-burn tobacco IQOS 3 DUO. From February 22 (Monday), sales will begin at some stores, including the IQOS online store and 9 IQOS stores in Japan, as well as IQOS shops. The manufacturer's suggested retail price is 6980 yen tax included(about $64), in line with the revised price announced the other day.
Limited number of colors suitable for spring
The package of the IQOS 3 DUO Prism model is different from the previous one, and adopts the original specification of double doors. The device is based on purple and changes to various colors depending on the angle of light.
Under the concept of "Let's change, vividly new" ahead of a new start for spring, PMJ President Sherry Go said, "Spring is the season of new encounters. The" IQOS 3 DUO "Prism to be released this time. The "model" will be in a limited quantity color suitable for spring when you can imagine new encounters and lifestyles and enjoy changing things. We also prepared a special design package. In the new spring, with a special one I hope you will look for new changes and perspectives. "
Also, from the same day, the lineup of accessories will be expanded. In response to home demand, four new IQOS tray plastic trays (royal blue, red-brown, green, nude pink) will be released for 1980 yen (tax included).
Events with the theme of "imagination"
In commemoration of the release of IQOS 3 DUO "Prism" model, "Pris Museum" expressing the world view of prism will be opened at 9 IQOS stores nationwide from February 22 (Monday). Will be done.
In the store, we offer hand towels and mineral water linked to the concept as an experience of enjoying the visuals on the display and as hospitality to all visitors. At the lounge, we will offer a special drink "Litchi Soda" inspired by the IQOS 3 DUO "Prism" model and present a mini herb can as a purchaser privilege.
In addition, we provide special content for IQOSPHERE members.
In collaboration with cook/life designer Rho Tachibana, we will introduce "the best tasting experience with IQOS" and develop a loyalty program where you can win luxurious prizes. Four quests with the theme of "imagination" such as "Let's share amazing photos taken from different perspectives" are prepared, and IQOS 3 DUO sets and flavors selected by Mr. Rho Tachibana by coins that can be obtained by clearing It is a campaign that wins a snack set that you can enjoy pairing with.